The Best Google Sheet Add-Ons That Can Make Your Life Easier
May 24, 2023
Are you looking for the best Google Sheets add-ons to simplify your workflow?
If so, then you're in luck! Today, we'll share add-ons that let you automate complicated tasks, access additional features, and even add special functions.
Moreover, we'll share tools that help you use spreadsheets better. We'll provide ways to filter your data, improve communication, and maximize the features of your spreadsheet.
Read on as we cover the following:
What Are Google Sheets Add-ons?

The Best Google Sheets Add-ons for Creating Reports

Final Thoughts on the Best Google Sheet Add-Ons

Frequently Asked Questions on the Best Google Sheet Add-Ons

What Are Google Sheets Add-ons?
Google Sheets can do more things with add-ons and applications. These add-ons help you do special tasks like analyzing data or creating reports.
Moreover, you can improve your spreadsheet tasks with the best Google Sheets add-ons. For instance, you can convert your raw data into powerful tools for processes, data analysis, and reporting purposes.
The Best Google Sheets Add-ons
We've scoured the web and have found Google Sheets add-ons that most users commonly recommend. Here are some examples:
The ThoughtSpot Add-on for Google Sheets.
The ThoughtSpot for Google Sheets tool allows you to easily search and analyze spreadsheet data without using complex formulas or paying for a subscription.
You can create visualizations using natural language search. Consequently, you'll get easy-to-digest insights.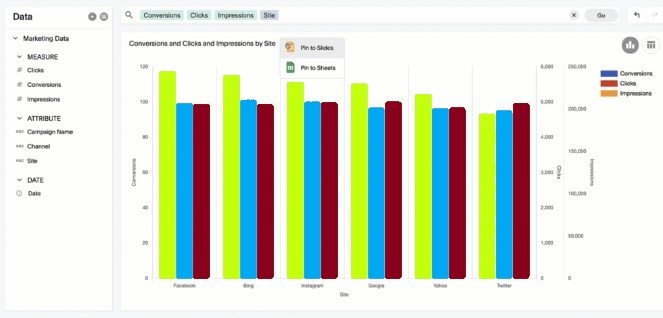 Google Sheets Awesome Table Add-on.
You can use the Awesome Table Google Sheets add-on to transform your Google Sheets data into interactive and professional web formats and visualizations.
It lets you showcase your data in various forms, including maps, directories, charts, and tables. Moreover, you can present your data on web platforms like Drupal and WordPress.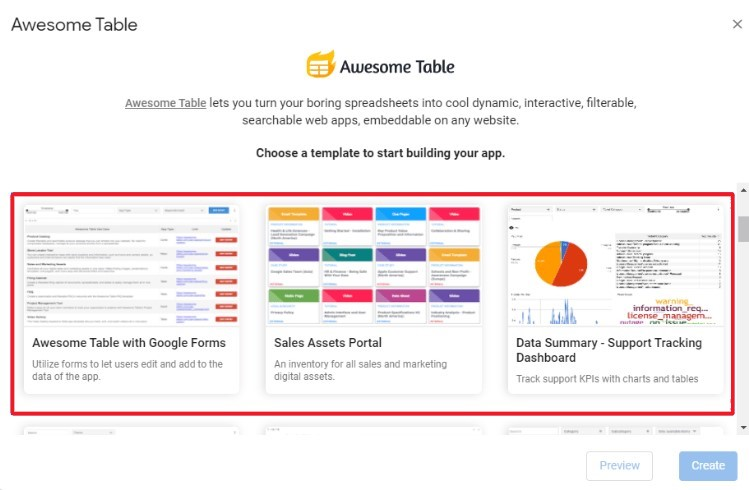 Google Sheets Document Studio Add-on.
Document Studio can help you quickly create special documents, certificates, and reports. With this add-on, you won't have to copy and paste from your source documents.
Moreover, you can extract data from different spreadsheet formats, including Google Sheets, CSV, and Excel. Besides, you can create a document based on what people submit in Google Forms.
In addition to generating documents and reports, Document Studio has a Mail Merge feature that enables the automatic sending of these files.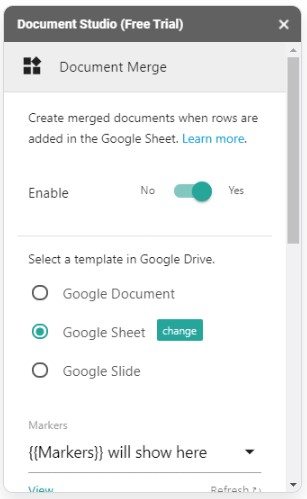 Google Sheets Power Tools Add-on.
The Power Tools app helps with tasks in Google Sheets, especially since it has 30 features that simplify different processes. The app can help you do things quicker and help put data into reports.
Power Tool has several useful functions that allow you to:
Remove any redundant entries.

Put cells together.

Make numbers.

Count and add up cells with color.

Bring in data from multiple sheets.

Do similar tasks.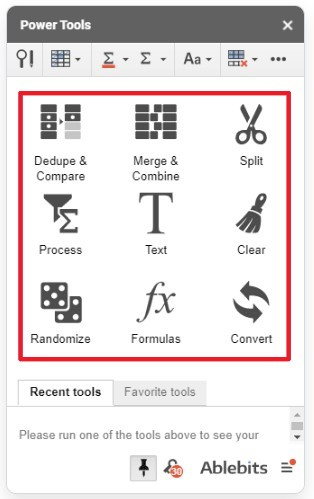 Google Analytics Add-on.
The Google Analytics extension is free, just like the Google Suite. It allows you to study your website's statistics and collect data from different sources, which you can convert into a spreadsheet.
Google Analytics can show you data in a way that is easy to understand. You can select the parameters you want to appear on your dashboard.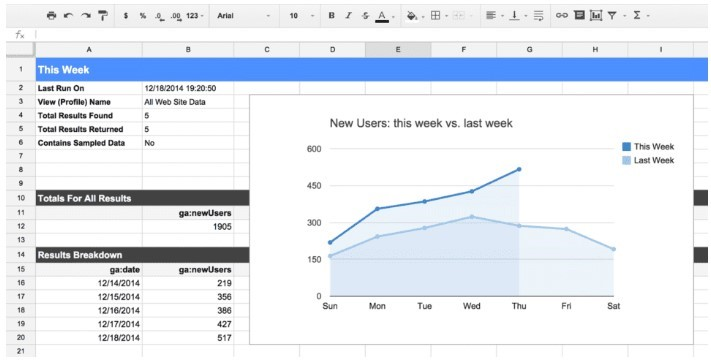 Advanced Summary Google Sheets Add-on.
Advanced Summary can help you make reports from the information you get on Google Forms. It works with Google Sheets, saving businesses the time it takes to consolidate form replies.
The Advanced Summary is one of the best add-ons for Google Sheets. After all, it allows you to apply filters to your data using the demographic and psychographic information obtained from your forms.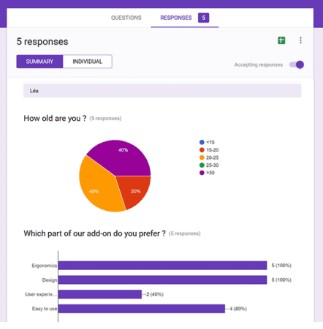 Statistical Analysis Tools Google Sheets Add-on.
Google Sheets has a special extra called "Statistical Analysis Tools." This add-on helps you perform calculations efficiently.
The app works like MS Excel's Analysis ToolPak but is faster; you get different results each time.
This add-on has built-in tools, including: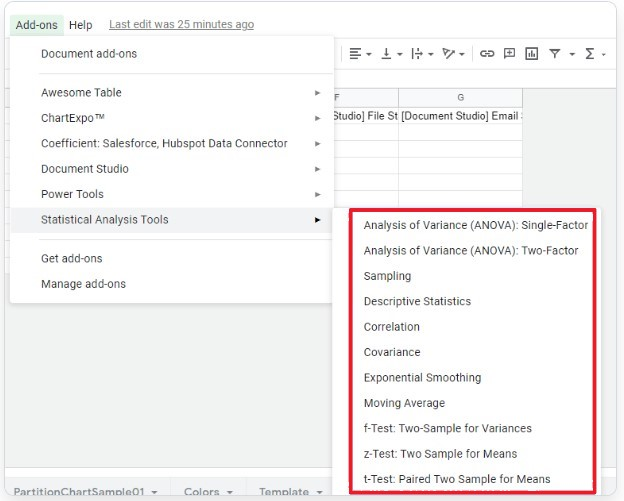 Google Sheet Add-on Advanced Find and Replace.
The Advanced Find and Replace tool helps you quickly find and change text in your formulas. You can also search for values, check hyperlinks, and look through notes across all spreadsheets simultaneously.
The app simplifies data analysis in Google Sheets by automating tasks such as finding, replacing, and tweaking datasets.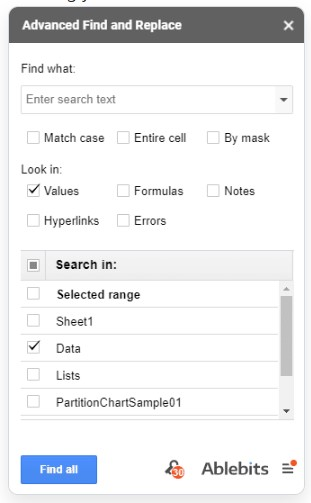 Google Sheets BigQuery Uploader for Sheets Add-on.
Uploading many spreadsheets into BigQuery can be hard and take a long time. However, you can use the BigQuery Uploader add-on on Google Sheets to help.
You can set up rules to make it easier and faster. Moreover, you can manually run the uploads if needed.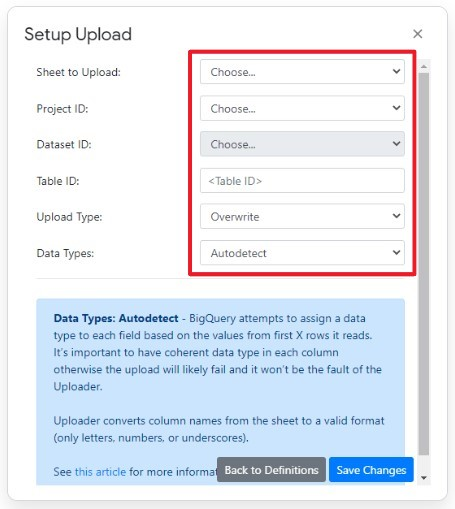 Google Sheets BigML Add-on.
The BigML add-on for Google Sheets simplifies filling in missing data in your datasets using clusters and Machine Learning prediction models.
It predicts the missing values with current decision tree models in BigML and fills in spreadsheet columns for you.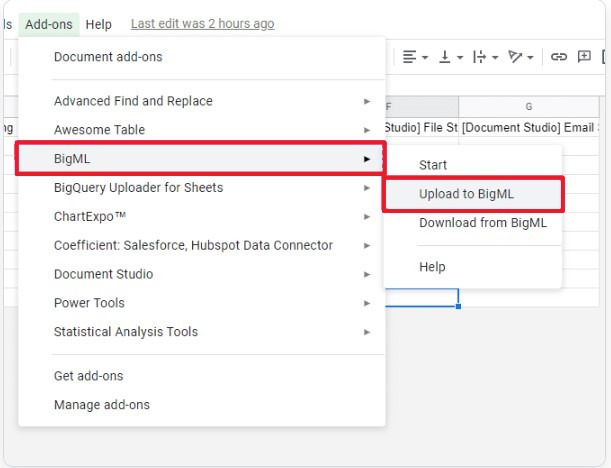 Text Analytics Google Sheets Add-on.
The Text Analytics tool employs Artificial Intelligence (AI) to examine your text and conduct sentiment analysis on your marketing data within Google Sheets.
Automated tools and features can enhance the effectiveness of your text analysis. This Google Sheets add-on offers several capabilities, such as:
Performing sentiment analysis to determine text documents' positive, negative, or neutral emotions

Identifying information such as spam, slang languages, and emotions

Conducting advanced data mining, categorizing documents into user-specified categories, and revealing crucial keywords with their polarity

Extracting data from documents with pre-trained models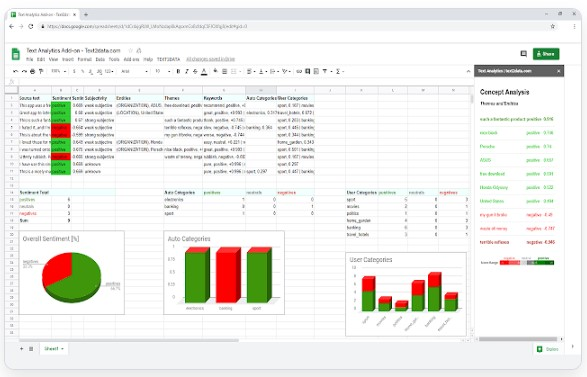 Final Thoughts on the Best Google Sheet Add-Ons
Different Google Sheets add-ons exist to create and manage various kinds of data quickly and easily.
These gems in the Add-Ons gallery offer solutions that will help you save time, increase productivity, and stay organized.
Visit Simple Sheets for more easy-to-follow guides, and remember to visit the related articles section of this blog post.
Subscribe to Simple Sheets on Youtube for the most straightforward Google Sheets video tutorials!

Frequently Asked Questions on The Best Google Sheet Add-Ons
Where can I install Google Sheets Add-ons?
To install add-ons to your Google Sheets spreadsheet, follow the steps below:
Go to the Add-ons tab.

Click Get Add-ons.

Choose an add-on from the Google Workspace Marketplace.

Click the Install button.
What add-on should I use to extract data from the spreadsheet and create another file format?
The Autocrat add-on can take out certain data from a Google Sheets document and use it to create personalized PDF or Google Docs files.
Where can I locate my add-ons in Google Sheets?
To locate add-ons, you've installed from the marketplace:
Open your Google Sheets spreadsheet in your browser.

Select "Extensions" from the top toolbar.

Choose "Add-ons" followed by "Manage add-ons."
The add-ons option is in the same location as your previously installed add-ons.

Related Articles:
How To Track Changes in Google Sheets
The Must-Have Guide: How To Freeze A Row in Google Sheets
Want to Make Excel Work for You? Try out 5 Amazing Excel Templates & 5 Unique Lessons
We hate SPAM. We will never sell your information, for any reason.