The Best Excel Add-ins You Wish You Knew Earlier
May 25, 2023
Are you looking for the best Excel add-ins?
If so, you've come to the right place! Today, we'll share add-ins that will give you more powerful capabilities, such as data analysis, regression analysis, and financial analysis.
Several online add-on features are available to enhance the effectiveness of Excel spreadsheets. This blog post will discuss the top seven paid and free Excel add-ins.
Read on as we cover the following:
The Best Excel Add-ins

Final Thoughts on the Best Excel Add-Ins

Frequently Asked Questions on Best Excel Add-Ins

The Best Excel Add-ins
Here are the best extensions you can install in Excel:
The Wikipedia Excel Add-in
Are you trying to look for information from Wikipedia?
Installing the Wikipedia Excel app allows you to search for Wikipedia data without leaving your spreadsheet.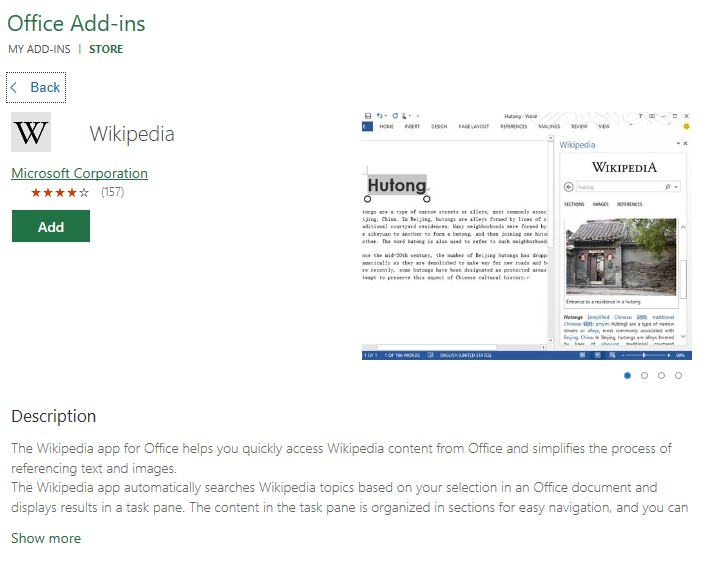 You can easily add images and texts from Wikipedia to your spreadsheet.
Use the power query feature to add a Wikipedia table to your Excel file. The power Query feature will allow for the easy cleaning and importing of your data.
The Professor Excel Tools Add-in
The Professor Excel Tools enhance the default features of the program by adding a whole new ribbon with 125 additional functions.

Here are some of the features you can expect from the Professor Excel Tools add-in:
The Copy & Paste Tools: Copy and put things elsewhere.

The Formula Editing Tools: Calculate numbers with formulas.

The Insert Elements Tools: Add new elements to your work.

The Quick Cell Tools: Quickly change cells.

The Workbook Tools: Change the look of a whole workbook.

The Display and Layout Tools: Change how the data looks on the page.

The Finalize Features: Save the changes properly.
You'll have the tools neatly organized in a ribbon, which avoids the need to navigate sub-menus and saves time.
Analysis Toolpak Excel Add-in
The Analysis ToolPak is another extension for Excel. It helps to perform complex math calculations on your data. Moreover, it is perfect for a power user who is very experienced with Excel.
The Analysis ToolPak can help you learn insights about your data. You can use it to get information like averages, patterns, and connections between different pieces of data.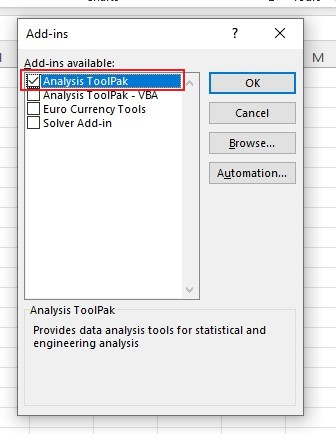 Excel Add-in Lucidchart
Creating Gantt charts and flowcharts with Excel can be complicated. Although the program has tools, the free Excel add-in Lucidchart can simplify the process.
Moreover, this add-on allows you to easily create charts with different templates. It has a user-friendly interface that allows you to drag and drop elements without needing any specialized skills.
You can search for Lucidchart in the Excel Office Add-ins store.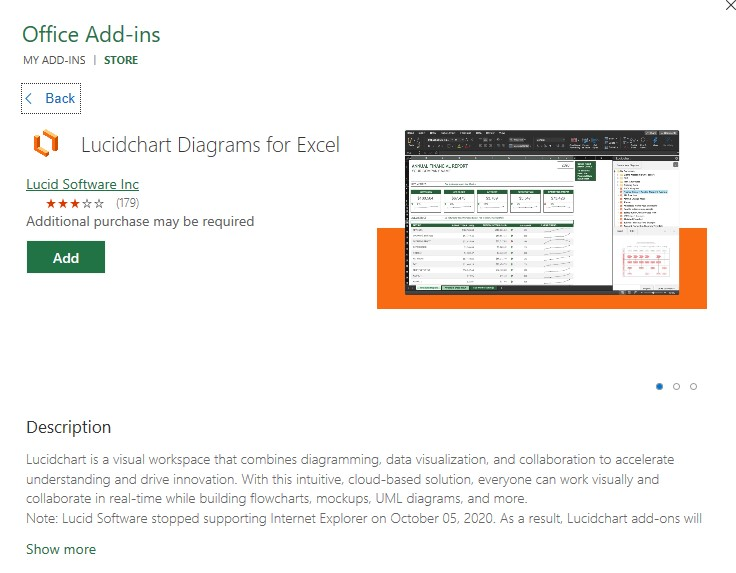 FRED Data Excel Add-in
Do you consider collecting macroeconomic data to be a complex task?
You can simplify your tasks with FRED Data, a Microsoft Excel Add-in that provides access to the Federal Reserve Bank of St. Louis Economic Data.
FRED is a free Excel add-in that lets you easily access over 810,000 data series from different sources.
With just a few clicks, you can search for data from multiple sources and download it, which can help you create better presentations.
To find the free Excel add-in, go to the add-ins tab and search for "FRED data."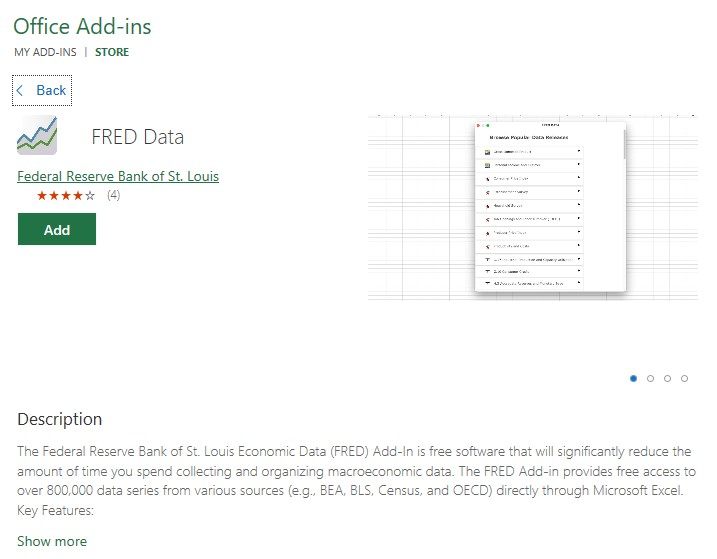 Excel users that want to analyze data and, at the same time, use the FRED data Excel add-in.
Bing Maps Excel Add-in
Have you ever tried to create a data visualization using a map?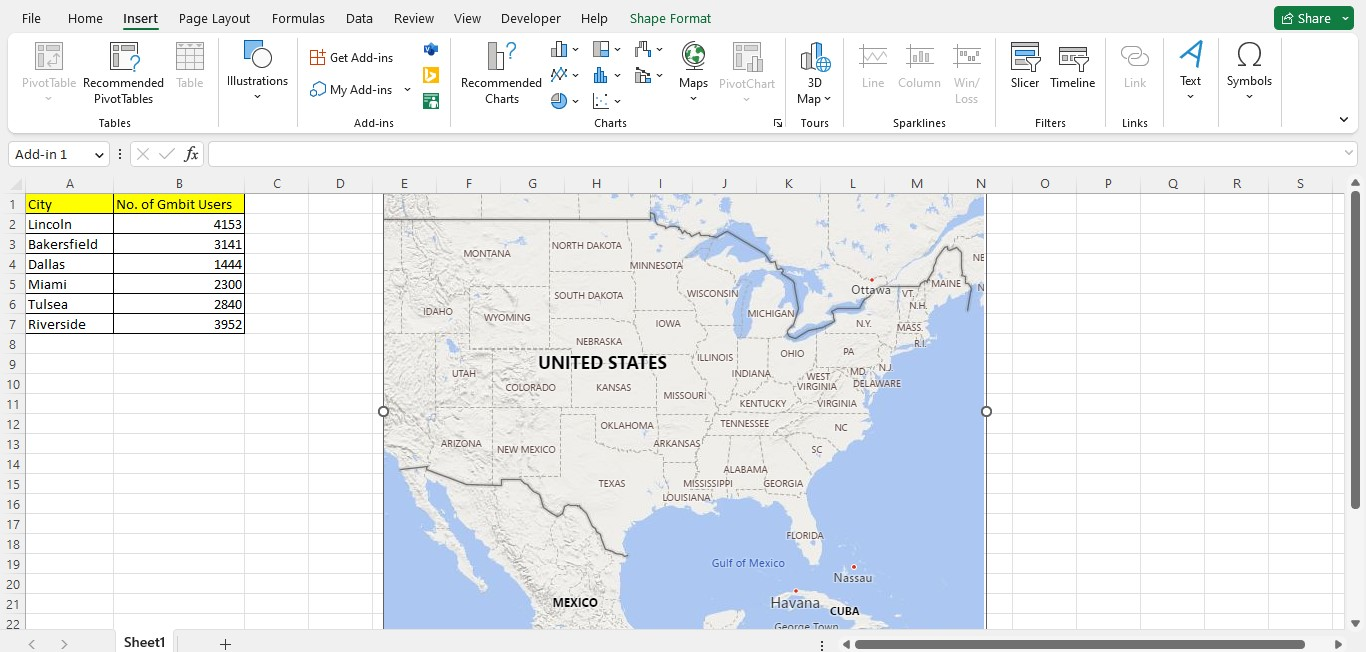 Thankfully, you can easily use Bing Maps in Excel.
To select the Bing Maps free add-in, go to the Insert tab and click on the Add-ins group:

Pie charts or circles can show multiple data points related to a particular location.
You can change the map type between road and bird's eye view, and you also filter the location to display only certain data points.
Ablebits Duplicate Remover Add-in in.
Aside from performing calculations, Excel can also function as a database. However, duplicate records often arise when overseeing larger databases.
Excel can help you find and delete duplicates. But if you need extended functionality, try the Ablebits Duplicate Remover. It has extra features that can help you do more with duplicate items.

The tool can perform various actions such as identification, selection, highlighting, deletion, copying, and moving.
You can use the Ablebits Duplicate Remover add-in for different data types, including unique values, duplicate values, absolute duplicate rows, and partially matching rows.
Final Thoughts on Best Excel Add-Ins
Microsoft Excel add-ins can do many things that can help you work faster, simplify tough calculations, and create better reports. You can use many add-ins to make the program even better.
Visit Simple Sheets for more easy-to-follow guides, and remember to visit the related articles section of this blog post.
For the most straightforward Excel video tutorials, subscribe to Simple Sheets on Youtube!

Frequently Asked Questions on the Best Excel Add-Ins
How can I install Excel add-ins?
To install add-ins in Microsoft Office:
Go to the Insert tab and select Get Add-ins.

Find a specific add-in.

Click on an add-in to learn more about it.

To add or try out an add-in, select either Add, Try, or Buy.
How to remove an Excel add-in in my Excel file?
To remove an add-in from Office Add-ins:
Go to the Insert tab and select My Add-ins.

Click the add-in and click the three dots.

Click Remove

Click Remove again to confirm.
Is it secure to use add-ins?
Add-ins are kept safe by special rules, including a place to run and a way to decide who can use them. It also protects the user experience by deciding who can access the Office client application's UI frame.

Related Articles:
Quick Guide: How To Insert 3D Models In Excel
Everything You Need To Learn About The Pivot Table In Excel
Insert PivotChart In Excel: A Complete Guide
Want to Make Excel Work for You? Try out 5 Amazing Excel Templates & 5 Unique Lessons
We hate SPAM. We will never sell your information, for any reason.